Regular price
$24.95
Sale price
$10.95
Unit price
per
Sale
Sold out
Share
Description

Product Information 
Introducing our Microfibre Bathroom Mitt, the ultimate cleaning tool for achieving a spotless and chemical-free bathroom. With its two-sided design, this mitt is specially crafted to loosen dirt and clean delicate surfaces with ease.
Our Microfibre Bathroom Mitt is designed to deliver exceptional cleaning results without the need for harsh chemicals. The dual-sided feature provides versatility for different cleaning tasks. The textured side effectively loosens dirt, soap scum, and calcium deposits, while the soft side gently cleans and polishes delicate surfaces.
Experience the power of microfibre technology as our mitt lifts, traps, and removes dirt, soap scum, and calcium from bathroom surfaces quickly and efficiently. The microfibre material acts like a magnet, capturing and holding onto particles, leaving surfaces immaculately clean. Experience the lifting, trapping, and removing power of microfibre as you quickly and effectively clean your bathroom without the need for chemicals. Elevate your cleaning routine and enjoy a pristine and chemical-free bathroom with our advanced microfibre technology.
Dimensions: 23cm x 16cm
Colour: White & Grey 
Why do you need a Bathroom Glove?
Rapidly cleans large surfaces with efficiency.
Highly effective in eliminating soap scum and mineral deposits.
Simple to use - just add water for clean surfaces and a healthier environment.
No toxic chemicals means no need for rinsing, no residue, and no unpleasant odours.
Reusable for up to 3 years, providing excellent long-term value.
Environmentally friendly as old bathroom fibres are recycled, reducing waste.
Each piece is meticulously hand sewn and individually quality checked for enhanced durability.
Replaces multiple bathroom cleaning products like sprays, creams, bleach, window/shower cleaners, disposable cloths, sponges, rags, and paper towels.
Perfect for effectively cleaning calcium and mineral deposits from bathroom surfaces such as tiles, shower screens, and mirrors.
Ideal for removing soap scum, toothpaste stains, and watermarks from bathroom fixtures and fittings like tap ware, sinks, and tubs.
View full details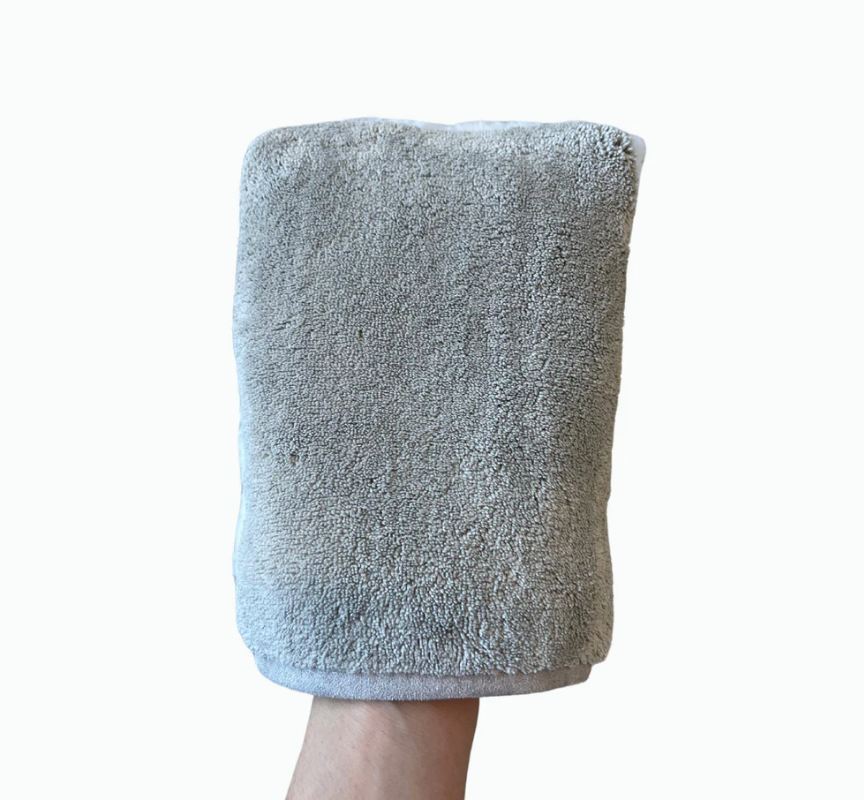 Have a question about this product?